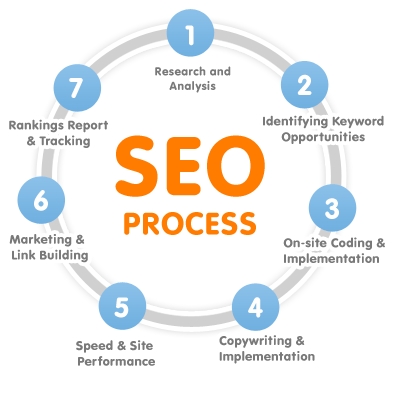 SEO, well known as Search Engine Optimization is a term used to make your website/business searchable to the searchers, that is, making your identity and visibility to the online searchers.
Being on top 10 positions from billions of websites is not as easy as thought to be.
Have you ever wondered why those top websites on search engines (Google, Yahoo & Bing) are on top when you search for something?
Have you ever created a website and dreamed why isn't it ranking well on the search engine result pages (SERPs)?
Are you planning to promote a website, business or product so that you can generate revenue and create your online business reputation?
Here you are!
The term Search Engine Optimization is defined as the process of improving web pages so that it ranks higher in search engines for targeted terms/keywords with the ultimate goal of generating more revenue from the website.
There are many factors to keep in mind while optimizing your website, coined as SEO factors. In general, these factors can be categorized as On-Page Optimization, On-Site Optimization, and Off-Site Optimization.
Let me clear out first, that there are basically 2 types of Search Engine Listings that we rarely notice or care about.
One is the free listing and another is the sponsored listings. The white area on the left side is the free listing area, that is, the listings that have resulted because of SEO efforts.
With the SEO efforts, I mean, through various strategies and techniques and lots of hard cum smart work.
Whereas, the sponsored listings are the paid listings, usually yellow shaded area (PPC). The below diagram clarifies the same.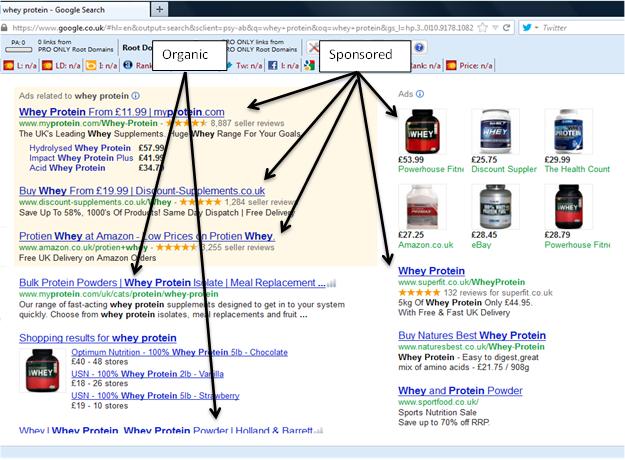 The businesses that offer seasonal or occasional products or services usually opt for paid listings in search engines as they get listed instantly without any efforts. Moreover, they cannot wait till they get ranked higher.
Say, for example, Christmas offers are worthless during Easter. So, they need to boost the market during the time period of November & December. Ultimately, they opt. paid listings through PPC campaigns (Google Adwords/Yahoo Search Marketing).
Coming back to SEO techniques,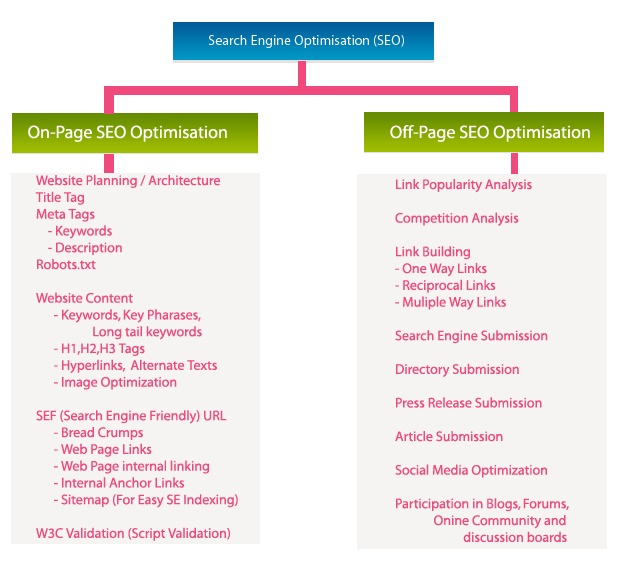 On-Page Optimization – Search engine programs called "Spiders" or "Crawlers" collect various elements and information from the web page to figure out what exactly the page is about.
Keeping that in mind, the gathered information is stored in the database so that the information can be retrieved when someone searches something related to it.
On-Page is one of the most important steps in website optimization. It includes Title & Meta tag optimization, image optimization, header tag optimization and integration of standard Meta tags.
On-Site Optimization – Being one of the essential parts of SEO, it ensures search engine friendly structure. It signifies how the website has been built and the information flows from one web page to another. It includes the navigation structure, linking structure and levels, domain names, URL paths, website architecture, layout and design and last but not the least content integration.
Off-Site Optimization – Search engines rely heavily on links while formulating whom to rank higher in search results. They rely on who links to your website. The more the websites link to you, the more the chances to get higher rankings on SERPs. Also known as off-page optimization, it includes the promotional part of SEO including article marketing, press release distribution, social presence, business listings and much more.
Click below for the Free Beginner's Guide to SEO:

Posted on – March 05, 2010