If you see the trends, email marketing continues to be an important channel of communication. If you believe the recent studies, the return on investment (ROI) on email has increased 30 times on an average.
Still, the competition that you face in the inbox is bigger. The fight to get the attention of the email subscribers is as fierce as getting more likes or shares on the social media platforms.
So, it is important to learn how to optimize your approach. If you've been sending satisfactory campaigns this year, it is time to review the success parameters to enhancing email ROI. This will help you in to get in line with the trends which will be important in 2018.
So, what are this valuable advice for email marketing for 2018?
According to email marketing experts; marketing activities like personalization will be important. Along with it you also need to see the loyalty programs and re-engagement.
Let's know about the factors that will help you adapt to these changes and increase repeat purchase and customer-brand engagement.
1. Creating compelling CTAs will become important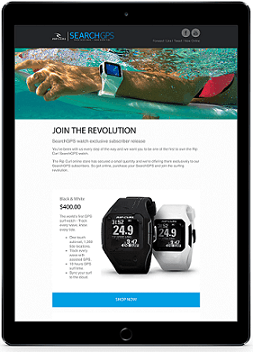 Until your email has a CTA it is useless.
Your call to action is one of the most important pieces of content in your email.
Apart from influencing your subscribers to open your email (by means of a convincing headline), your next aim is to get them tap on your content.
Some tips that will help you improve your CTA and get more clicks are:
Focus on CTA and create your content around it.
It should be prominent, bold and clickable.
Don't add several CTAs. Give space to them so it's easily visible and people are more likely to click on.
Add power words.
Conveying a significant, moving, and smart CTA is definitely a good move.
Make sure to create relevant content around your CTA that additionally make your readers click.
Be clear and concise in your CTA, and don't ask for too much up front. Sometimes one CTA in your email is enough, for e.g. in the case where you are promoting a sale, or want someone to download an eBook.
While sometimes a few CTAs are appropriate.
Test what resonates best with your audience and don't be afraid to take some risks.
2. Try to send a microform of your website in email
This method of sending microform is fast catching up and we'll see more of it in 2018. Companies plan to increase their customer research, engagement, and retention by this method.
It is an interactive email, which allows the user to interact with the email interface within the inbox. The adoption of this technique will help retain customers and give a more engaging approach to content.
Interactive emails keep the inbox interesting and unique.
The features of an interactive email may include, but not limited to integrated forms and surveys which a user can do in the inbox instead of being directed to a separate landing page.
There are social sharing buttons which makes it easier for your user to share content on their social platforms.
Addition of GIFs, videos, and animations engage users, but can sometimes also make your emails take more time to load. These emails also have a search option, menu options, and navigation bars.
With each click, your conversion rate could increase.
There are also rotating banners and/or carousels. This encourages interaction with the content, increasing the chances of positive engagement and conversion.
One can also add a countdown clock for sales and promotions which promotes a sense of urgency to take action. For example, an image below shows all the essentials an interactive email should have.
Interactive email essentially hands your audience everything they need on a plate – with minimal effort for them.
They do not need to divert out of the inbox to view content. Instead, if they can interact with video or complete surveys it will be effortless.
Bigger brands have already started to make use of this technique and it is time you should also try.
3. Collection of customer information right from inbox
Like interactive emails, few companies are using this technique of attaching survey or feedback forms. You can do this either in your pre or post-sale emails.
This is an easier and convenient way of collecting customer data, as they are not sent to a separate website.
Collecting data is important to understanding an accurate and detailed customer persona. Asking your audience to fill out surveys and questionnaires is the best way to find out.
But, this can be time-consuming to your audience as CTAs direct them to an online landing page to fill out surveys and forms.
But integrated survey and forms will help increase engagement, as users can fill out the form without leaving their inbox.
Applications of email surveys include asking your customers to fill out a review of your product or service. What your customers currently like or are the affairs that are trending to personalize content to their needs.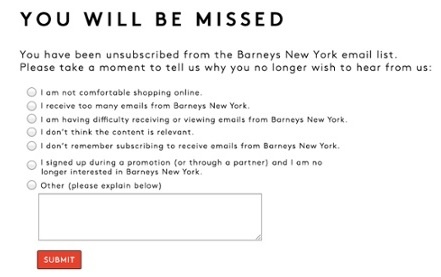 To adopt this, smaller companies and individuals need to have an email software. This needs full compatibility with sending personalized content.
Third-party email apps like Gmail and Yahoo support this. But there are few email clients which are still not compatible with integrated email forms and surveys.
Interactive email hands your audience everything they need on a plate – with minimal effort for them.
They do not need to divert out of the inbox to view content. Instead, if they can interact with video or complete surveys it will be effortless.
Bigger brands have already started to make use of this technique and it is time you should also try.
4. Maintaining conversational tone when interacting with your audience
The tone you chose to use in your emails affects the way your customers will respond. A conversational tone may not be the best tone to use across all sectors. But it does give a more personal and genuine interaction between the customer and brand.
A conversational tone will ask your users questions, gets them thinking and then gives them the answer they need.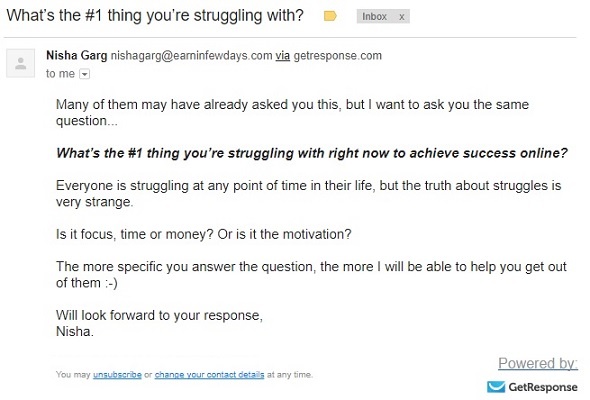 Through your CTA you can direct readers to your content that helps or educates them.
A more formal approach may be better for business sectors. Asking questions and starting a conversation with your audience is important for engagement.
It will feel more personal show that the content you have produced has had them in mind, feeding their needs for answers, content, products etc.
5. Mobile-friendly designs will be appreciated
Lately, more subscribers are reading emails from their mobile devices, which is a major jump from the start of 2017. And, this will continue to grow in 2018.
We now live in a mobile-friendly society, where people consume content on the go, in the early morning or late at night via mobile.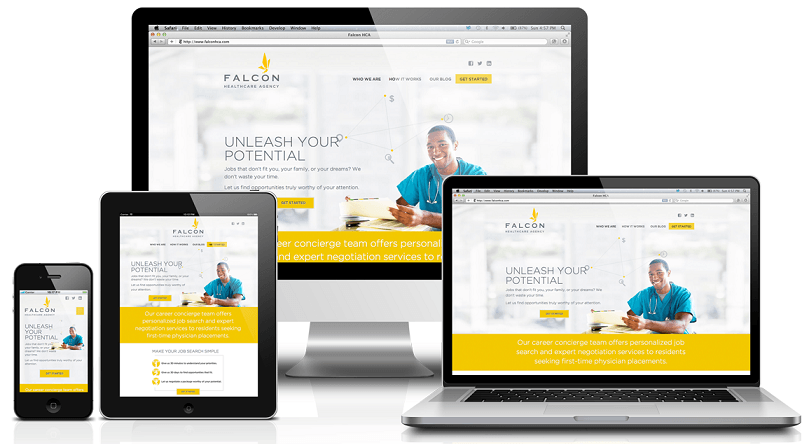 Even you must be checking your social notifications and emails on a morning train to work or while coming back to home.
It is now more important than ever to make your emails mobile friendly.
After all, why should you neglect this medium of marketing from other mobile-optimized content?
Mobile optimized sites take lesser time to load and this is an important factor that ranks your site. This also gives an excellent user experience for your audience.
This is also true for email – slow loading emails that aren't optimized for mobile risk low engagement rates and poor clickthroughs.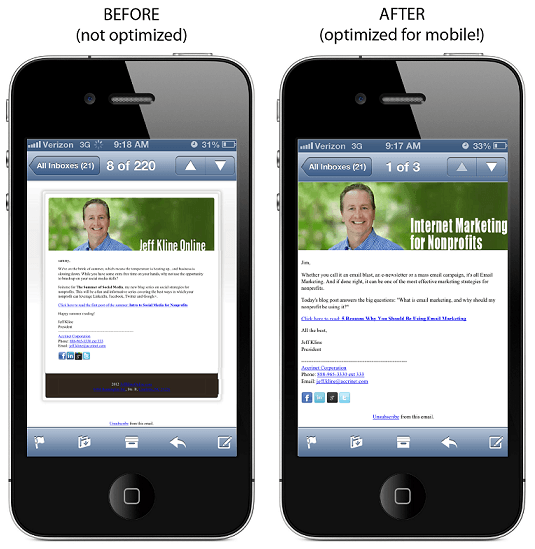 But, it is important to know how, when and where your target audience consumes their information.
Knowing whether your audience prefers desktop experience or a mobile experience is vital. The design is responsive to the space it has to fill, easy to read and more easy to scan for those busy marketers on the go.
6. Email testing will be prioritized further
Nobody wants their readers to find corrupted emails that find their way to a delete or to the spam folder.
This comes down to the background work your email marketers do to make sure people open the emails. With the correct design and delivery to the correct email folder.
Without doing the background work, you may lose all the extra effort for design and copy, and your customer engagement rate decreases.
Rendering your emails is important to make sure your emails are viewable across all email clients.
Taking the time to create a great design and engaging copy is a wasted time when your customer cannot see your amazing work.
Rending gives your customer a customized experience, regardless of the email client they use.
Test your emails to make sure the design is perfect, the images load and the copy is exactly where you want or need it for engagement.
Since a long time, many keep checking the technical viability of emails aside. But for companies going into 2018, the importance of deliverability is more in the upcoming year.
7. Personalization of emails will remain a high priority
To continue sharing dynamic and engaging content, personalization of emails will be a high priority in 2018.
Dynamic content is important to create a personalized experience for your customer. Add to more relevant communications.
Dynamic content also includes the HTML within your content which changes based on the recipient.
This goes hand in hand with segmentation i.e. list and location-based emails. Together they provide the user with a customized email. This is important creating a unique experience which makes the user feel valued by the company.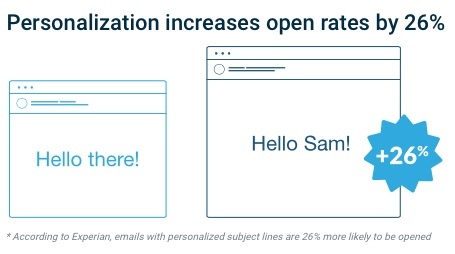 The most basic and used form of personalization is inserting the name of the user into the email, rather than a standard 'dear customer' or a simple 'hi'. But this is no longer enough.
Customer-centric emails show the importance of dynamic content email. It contributes engagement with loyal customers and re-introduction with lapsed customers.
Without dynamic content, you aren't telling your customers why they need to come back or keep buying your brand.
Consumers are becoming more clued up with the emails they receive and the content contained within them.
While the classic first name personalization in the subject line or opening line of an email is a good habit, it's now becoming common and expected, to the point where if you're not addressing the recipient by their name they may lose trust.
Consumers know that as a brand you're sending out hundreds of thousands of emails in a campaign. But they are also aware that you should now know enough about them to ensure that the content you're including is relative to them.
The best way to check the success of your email campaign is by reviewing your engagement after each email sent.
Engagement metrics like opens, clicks, unsubscribe, etc. are your window into your recipient's inbox. And, how they feel about your emails.

If you see high open and click rates, your recipients are finding your emails useful.
If you see addresses on your email list that never engage, it may be time to try to bring them back on board with a re-engagement campaign.
8. Keeping a close tab on frequency will be crucial
If you're watching your engagement metrics, then you should be able to derive how often you contact your recipients.
An even better way to figure out how often you should email your recipients is to let them tell you in a preference centre. You can take help of tools that helps maintain the right expectations between the sender and the recipient.
Don't let your emails fatigue the curiosity of your subscriber towards your brand. They will only lose interest in your emails when mailed.
Instead, show the best aspects by sending the right information in crisp, concise form.
My Final Thoughts
Email marketing is a fine wine in digital channels. It's been around for ages, and its complexity evolves with time.
To stay ahead of others you need to keep a close eye on the trends that will enable you to take the most mature marketing decisions.
From cool personalization to keeping your audience in their inboxes; 2018 will see a new list of trends in email marketing.
If you are too interested in getting the best results, you can try these methods for yourself.
Also, keep reading about the latest in email marketing by following this blog and stay informed!