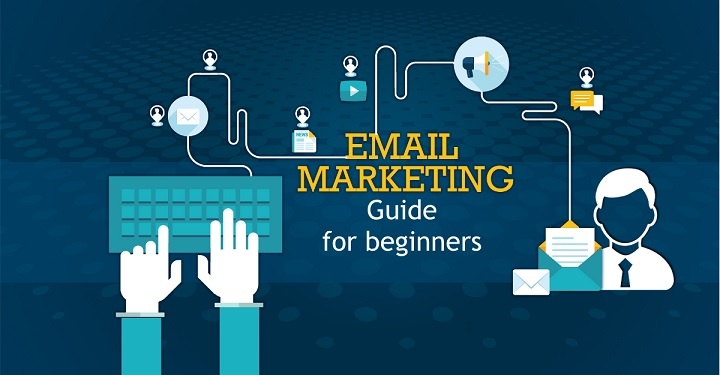 Are you a beginner wondering if email marketing is your cup of tea or not? Then the answer is yes! Email campaigns are a part of digital marketing that anyone can learn and do wonders with.
If we consider marketing over different social media accounts, emails are the most efficient way to do so.
It can easily be interpreted that there exist thrice the total number of email accounts as compared to that of Facebook and Twitter altogether.
Studies show that the chances of your email ads getting clicked are 6 times more than that from a twitter account. Thus, it can be concluded that emails bring the highest number of ROI as compared to any other marketing channel.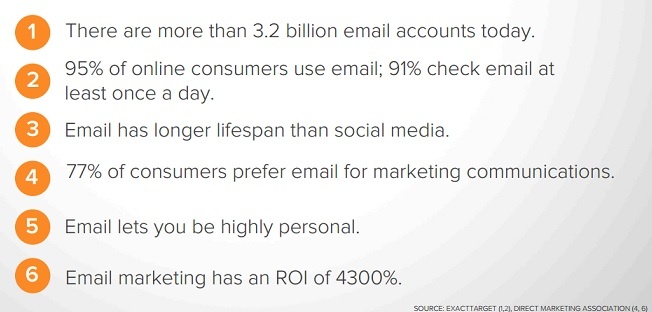 If you look forward to driving a reasonable amount of revenue and sales using email marketing, then you should be well versed in creating email campaigns appropriately.
In this post, you will learn the entire process right from getting started (as a beginner) to meeting the end goal by ensuring success right from your first campaign.
Step #1 Set your Goals
The process, like any other, starts with setting up of end goals. Once you know your objectives, it is essential to plan and create strategies in order to meet those goals.
What are your goals?
It is pretty easy just to sign up for an email marketing tool and start sending your first campaign.
However, before getting into it first and thinking it's that easy and later failing to get results, first think about your goals you actually want to achieve.
It is only then when you can create an effective campaign, send it to your organic target audience and positively measure success.
How do you find what your marketing goals are?
Find out if you want:
new leads for your sales team or
new attendees for your event or
more donations for a cause.
Do you own a blog?
If yes, then your goal might be to market your articles and new updates to the audience. Thus, find out what your goals are?
Who is your target audience?
Next, while establishing your goals, it is essential to understand your target audience. Email campaigns are only successful if you send emails to the audience who is interested in your content.
You should be able to make sense to the audience.
One of the effective ways to do so is stand in the shoes of your subscribers and follow the WIFM, What's in For Me, strategy.
Thus, your target audience will actually be the audience to whom your information stands relevant.
How to decide your goal?
In order to help you determine your real goals, answer the following four questions, and you will know what is the intent of your campaigns.
We can then move forward understanding what will you need to make your campaign successful.
What action do you expect your subscribers to take?
Why do you want your subscribers to care what you have conveyed?
Who do you want to send the campaign to?
How can you measure success? Or how do you see progress in your campaign?
Answer these questions, and you will yourself know your goals, your plans, and your target audience.
You might now want to know how planning your goals, identifying the target audience and understanding the need for your email campaigns will help you achieve your marketing and ultimate business goals?
I will be covering it below.
Step #2 Create your email list
Now, that you are aware of your goals and have them well-planned, start creating an email list to start sending emails to your audience.
There are different ways to create an email list. These are:
Import lists from known contacts
This method is most beneficial when you want to keep your existing customer contacts on your list.
Import the contacts of your existing customers using an email marketing tool or do it manually.
You may use tools to import customer details like accounting, CRM, eCommerce tools, etc. or you might want to list all your contacts in an excel file yourself.
However, before you add these contacts to your email campaign list, it is advised to take adequate permission from them and evade risks of losing customers.
Also, never try to bulk upload email contacts to your email automation software. Import 100-200 email contacts at a time.
Tip: Do not buy email list as it may cause deactivation of your account.
Build a contact list from scratch
If you do not have a contact list and want to build it from scratch with the right audience really interested in your products or content, then follow this formula:
Simply subscribe + valuable inducements = a long email list
Thus, if you have an audience who'd like to subscribe to stay updated and if you are able to offer them valuable incentives, then it is easy to create an extensive email list.
Wondering what makes a good incentive or a valuable inducement?
Consider the following factors, and you will make a great one:
If you have a website or a blog producing content, then send your best content to your subscribers through emails. This is the best way to engage them in your campaign and divert them to your products.
Offer occasional discounts
If you have an online store and intend to sell your products through email marketing campaigns, then it is good to offer occasional discounts to your subscribers.
Moreover, you can also update the new items posted on your website and keep them updated with the store product list. This not only encourages people to subscribe but also benefits the business by converting them into potential buyers.
Offering free shipping is an additional incentive that can attract new subscribers and make them potent customers. This incentive can be offered when shoppers have items in their cart.
It works as a powerful motivator making people subscribe during their checkout process.
Another significant benefit of this incentive is that the buyer stays connected with the shopping store for long through email updates.
Step #3 Select the type of campaign
Different goals require a different kind of campaigns to get success. Thus, the sort of email campaign ultimately depends on the target you decided to opt for in the first step.
Following are some different type of campaigns you can organize for a successful email marketing.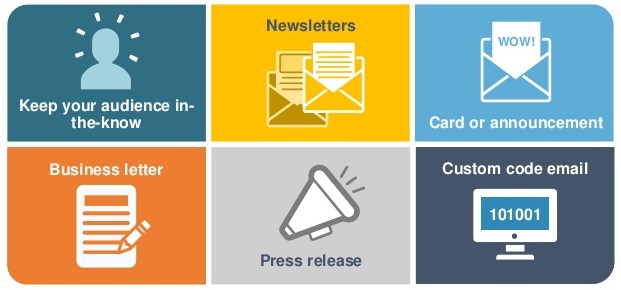 Newsletters
A newsletter is an email campaign, like any regular newspaper we use to stay updated with our surroundings. An email newsletter, however, focuses only on one topic of interest.
For example, if your target audience is the people who cook, then you may want to update the new recipes you have posted on your website or channel.
The newsletter campaigns keep you in touch with the people you already know or the existing customers.
This type of campaign drives people back to the website by keeping the latest updates on top of their mind. It is most suitable when you want to promote content or events on your website.
Marketing offer
This type of email campaign is specially designed to get a direct response to your goal. This campaign may be presented in multiple ways such as:
making people aware of the latest stock and encouraging them to make purchases.
promoting its sales through offering discounts and special promotions on your products.
focusing on only one product at a special price including a direct call to action button such as 'Order Now' button.
An email campaign used to directly promote sales by presenting the product as well its discount offers and a call to action button which takes the buyer to the website to make the purchase.
Thus, the email will include the name and image of the product, its description, offer price, and a 'Buy Now' option.
Announcements
An announcement type email campaign is the one where you announce the launch of a new product, a feature or your new services to the subscribers.
Suppose you are into a video making business and have launched a new type of video, then you might want to make an announcement telling your subscribers about the new launch.
These types of campaigns are most suitable when you want to keep your audience engaged and up-to-date with the latest features and products.
Though the primary goal is to share information, the announcement type campaign has an added benefit driving people to your store, checking out new products and making purchases.
Event Invitations
Suppose you have launched a new event and want more and more people to attend, then these type of email campaigns are most suited. They increase the awareness of the event happenings to the requisite audience.
These emails will have the time, date, location and other required information of the event that encourages and helps people reach the destination.
The type of email campaigns entirely depends on your goals.
While newsletter campaigns keep the audience updated and marketing offers tempt the viewers to shop online, the announcements keep the audience engaged and drive them to your store.
Events are the best way to invite people to your conducted business events. It is imperative to use the right type of campaign in order to achieve your goals.
Step #4 Build your first campaign
Now that you know your goals, create a plan of how your email campaign would look like and make a selection based on what you really intend from your email marketing efforts.
You are now set to create your first email campaign.
There are various email tools such as GetResponse, Aweber, MailChimp, Campaign Monitor, and drag and drop email builder that can help you create beautiful campaigns easily.
However, it is essential to comprehend how to make the best use of these tools.
Create the right email structure
A right structure is vital for comfortable reading. Research says that an average adult attention span is just 8 seconds.
Now with such a short span, we know that people who do not carefully read the campaign word-to-word will merely scan something of their interest.
Thus, avoid writing large emails.
Instead, create short and attractive content guiding them to the call-to-action icon.
A heading, the key message and some relevant information related to the key message are enough while it comes to the content requirement of an email.
However, you may add visuals as they act as an appealing component engaging the reader for some more time.
Once the reader is clear about what the email is about, or what you want them to know, put a call-to-action button in the end.
Relevancy
It is crucial to ensure that the email campaign created is relevant to every subscriber. Instead of sending emails to everyone, it is good to analyze and make a segmented list of contacts.
Sending relevant posts to an individual list of contacts is rather effective.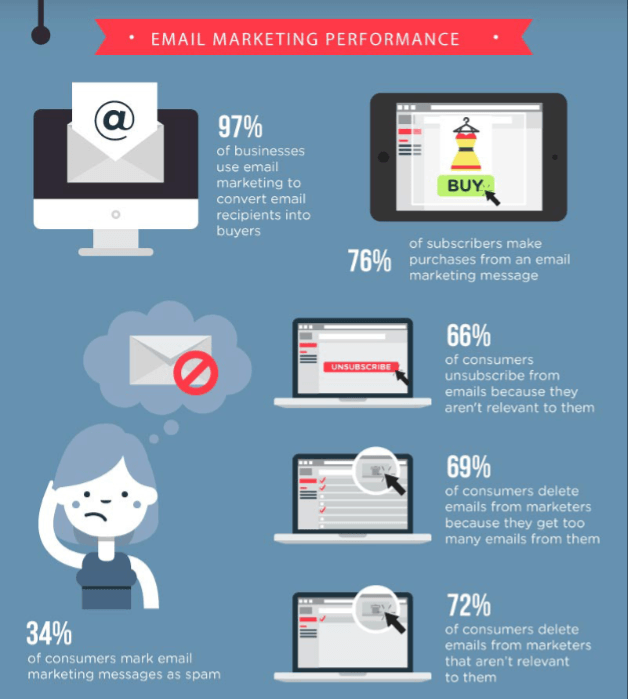 Thus, monitoring the actions of your subscribers is necessary to make the best segment and send relevant emails.
Ensure brand promoting and converting campaigns
The campaign should be such that it should promote the brand to the fullest, create a sense of trust and belongingness and finally be able to switch the subscriber to a potent buyer.
In order to promote your brand, you can use colors in your email that are related to the colors of your brand.
Moreover, the email should be optimized across all devices to make sure the reader while using any device gets the best experience as expected.
Step #5 Check your results
Now, that you had created your goals, done enough planning to make them successful and worked hard on it, it is time to measure the results.
Compare the results obtained with the results that were expected at the planning stage.
Check for deviations, if any, and start working on them.
The two popular tools that can help you track your results, the email marketing tool and the web analytics tool.
Compare the number of unique opens, bounces, emails unopened, span rate, unsubscribe rate, click through rate, open rate, and shares.
Based on these comparisons, you will be able to understand what went well and what not. Work on the deviations and improve your contact list, your email marketing campaigns, etc. accordingly.
I am sure adopting the teachings in this post will definitely give a boost to your email list and campaigns effectively.
However, if you have any questions at this point, feel free to comment below 🙂